Designer Bathroom Décor for a Perfectly Pampered Mood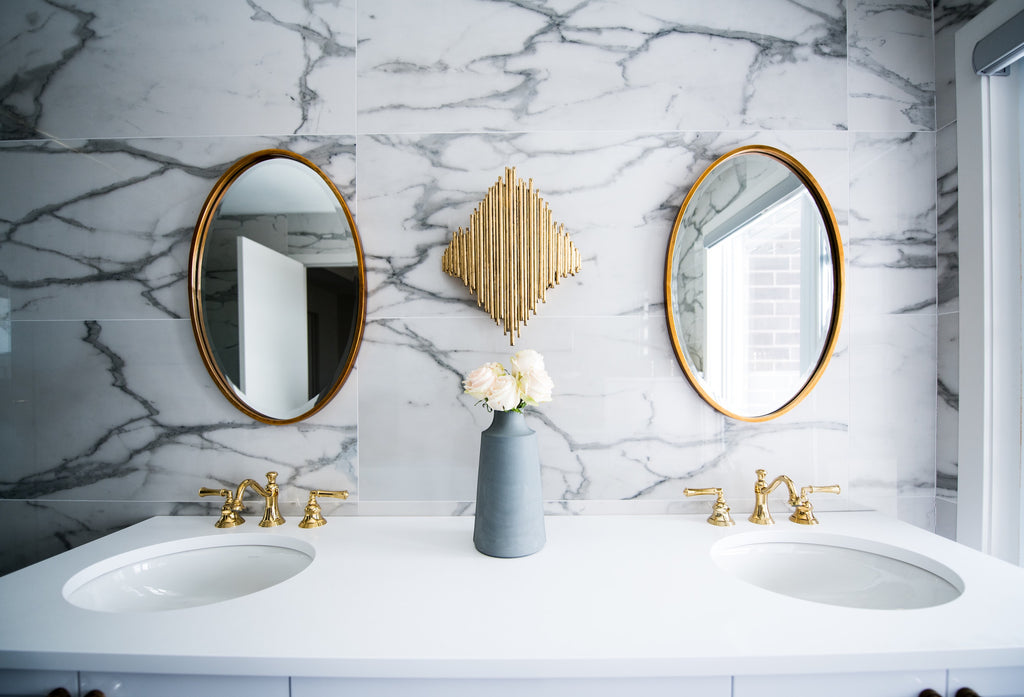 From showroom tubs to mother of pearl touches and plush cream towels, a beautiful bathroom is the hallmark of making your home a slice of heaven. Rather than presenting itself as a mere utilitarian space, the bathroom should evoke five-star spa sanctuary moods. It doesn't take much to transform your washroom into a place of wonder, and this guide is here to help you curate a sense of sublime wellbeing…
The Perfect Palate
Picking a classy color scheme for your luxury bathroom décor is the first step in setting the scene. The perfect palate goes beyond simple shading techniques and even lends itself to texture and material. If you are seeking that chic hotel feel, then gleaming white with marble and monochromatic touches capture this vibe perfectly. Soothing pastels and natural stone should be considered if the space boasts soft natural light and lofty ceilings. 
Weaving in natural delicate materials like coral, wood, and other reclaimed resources can beautifully balance out the weightier materials like marble and stone. LaDorada works solely with fully sustainable reclaimed precious materials from Colombia, creating environmentally conscious, artful objects.
Tantalizing Tiles
If you decide to opt for tiles as part of your luxury bathroom decor, this is one area where searching high and low is sure to make your space shine. From art deco borders to silver leaf, 1920's antique mirror style, and the pure wow factor of 18th century Portuguese façade tiles – the opportunities are endless. If you are opting for intricate tiles, consider blending with a more neutral palate as a backdrop. Hand-painted tiles have long earned a privileged spot in high-society and bring a hint of history into your home. 
The Blue Almendro Tissue Box from LaDorada is the perfect choice for bathrooms that call on chic shades of marble-white and ocean blue. Beautifully hand carved bone is delicately inlaid into natural wood to create a stunning look that works perfectly alongside Portuguese Azulejo-inspired tiles. 
Handmade from upcycled materials and providing direct support to artisans in Colombia, this is a gorgeously ethically sourced addition to any tiled bathroom. 
Sophisticated Lighting Solutions
A glaring overhead light is a bathroom faux pas. A designer bathroom should offer the option to dim the lights for when you want to soak in the tub for hours on end. If you don't want to go down the route of a dimmer switch, then weave in an array of candles, sconces, or artfully placed lamps to cast delicate light throughout the room.
It's All in the Details
When it comes to luxury home décor, the delight is  in the details. Selecting a statement piece like a handmade mother of pearl tissue box can elevate your bathroom into a gorgeous gallery space. LaDorada's signature bathroom pieces like our sophisticated soap dispensers are crafted from richreclaimed materials such as, horn, bamboo, and mother of pearl, and coconut Sustainable, ethical, and exotic, these unique home décor details have a tale to tell.
Botanical Bliss
Seeking that spa-like feel? Introduce botanical bliss into your luxury bathroom. Fragrant eucalyptus, lush ferns,  and even humidity-loving orchidsdo well in steamy environments. A  bathroom is a fine contender for a space that invites the outside in, so don't hesitate to curate an Amazon-like feel with an abundance of greenery, natural stone, and a cascading rain shower.  Pair your botanical haven with a Totumo Bath Tray to add another layer of exotic bliss. Carefully crafted from the seed of the Calabash tree, this elegant and naturally organic tray is 100% handmade in Colombia. 
Statement Tubs
A freestanding tub draws the eye and makes  a statement. If you have the layout to play with, position your beautiful tub beneath a window and let the light stream in as you soak. Placing a small table beside your tub in a complimentary design style creates a space for your ornate bath tray or stylish product dispensers. 
Curating a peaceful bathroom space is all about careful touches against the seamless luxury of a simple backdrop. Which luxury home décor touches are you looking to add to your bathroom? Share your tips in the comments. 
Natalia Weil